Embroidery Silks
Floss Silk

The most popular choice for embroidery silks is our Floss Silk which is flat with a high lustre. It is the silk thread that international textile artist, Helen M Stevens uses for many of her original embroidery designs.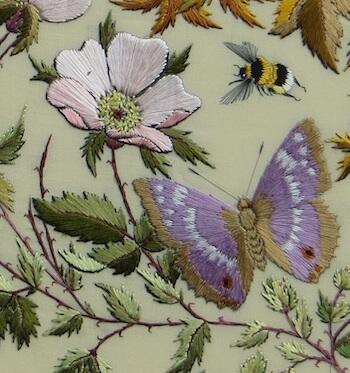 It can be used as a single strand for fine intricate work such as miniature embroidery on silk gauze or can be plied for counted cross stitch. It is very easy to blend and tone colours using more than one strand of silk in the needle.
All of our floss silks are made from top quality continuous filament silk. This means that the thread is reeled off the silk cocoons in one continuous length and wound into skeins. Over 1,000 metres can be reeled off one cocoon. The end result after throwing* is a luxurious silk with the highest lustre.
Floss Silk is available in over 200 shades which makes this an ideal choice for designers.
The silk is available in 80m or 150m lengths, or to expand your embroidery palette, we have selected shades from our extensive range to make up the ever popular Floss Silk Packs which consists of 10 carefully selected shades of 80m cops in each pack.
Fine Twisted Silk, Gloss Silk, Spun Silk and Silk Gimps
Any of the other silks from our range can be used for embroidery depending upon the type of work undertaken.
Spun Silk can produce a soft muted effect when worked with the Floss Silk and both the Spun Silk and Twisted Gloss Silks can be used for counted cross stitch work.
Blackwork silks are available from very, very fine 30 denier 2/20 Fine Twisted Silk to thick 900 denier Silk Gimp.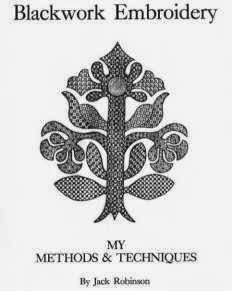 Miniature embroiderers use our 2/20 Fine Twisted Silks and 4/20 Fine Twisted Silks for amazing designs – as high as 140 count silk gauze!
The bears were worked by Juliet Blake in Pipers' silk thread on 112 count silk gauze. Actual size 23mm w x 21mm h.
See link to Juliet Blake's miniature embroideries using Pipers Fine Twisted Silks - link also shows how Pipers Floss Silk can be used in miniature knitting.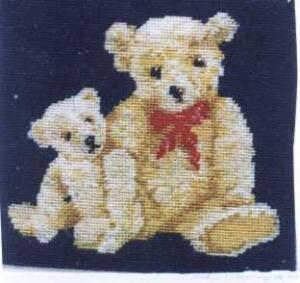 Buttonhole gimps start at 80/3 for Fine Gimp up to 40/3 Thick Gimp and 30/3 Thick Gimp. However, the 480 Silk Gimp and 90/9 Thick Gimp are less suitable silks for buttonholes due to their structure.
If you are not sure a silk will work for your chosen medium please feel free to contact us for help or advice.
All the silks can be ordered online directly from this website.