Lacemaking Silks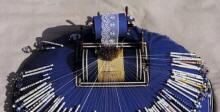 All Pipers Silks can be used for bobbin lacemaking. Below we give you just a few examples of the type of lace our silks can be used for; this list is by no means exhaustive!
Pipers 2/20, 4/20 and 6/20 FINE TWISTED SILKS, all have a greater amount of twist per inch than the floss silks thereby making them especially strong and smooth.
This quality makes the Fine Twisted Silks perfect for Honiton Lace. We have matching course threads in many of the shades.
4/20 Fine Twisted Silk is perfect for Chantilly Lace as used by Ulrike Voelcker (Lohr) who uses Pipers Spun Silks for the gimp thread.
Our middle range of lacemaking silks, 90 to 300 denier are used for many types of lace. We described how FLOSS SILK was a perfect embroidery thread but it can also be used successfully in lace as Ulrike Voelcker (Lohr) says "The Floss is my favourite for Flanders and all the other Flemish laces like Mechlin and Parise because it fills the clothwork so nicely".
SILK PACKS are available for Ulrike Voelcker's (Lohr) Butterfly & Moth Designs and Stil-Bluten Flower Designs in our online shop.

Pipers Spun Silks can be used for many lace projects but also for Miniature Knitting as used by Margaret Sitch.
The TWISTED GLOSS SILKS are top quality continuous filament silks with twist to make them very strong but with a soft feel. The lustre of these silks is quite exquisite.
90/2 TWISTED GLOSS SILK, 90/3 TWISTED GLOSS SILK and 80/3 TWISTED GLOSS SILK are perfect course threads for Honiton. 80/3 SPUN SILK and our FINE SILK GIMPS are also options for Honiton course threads.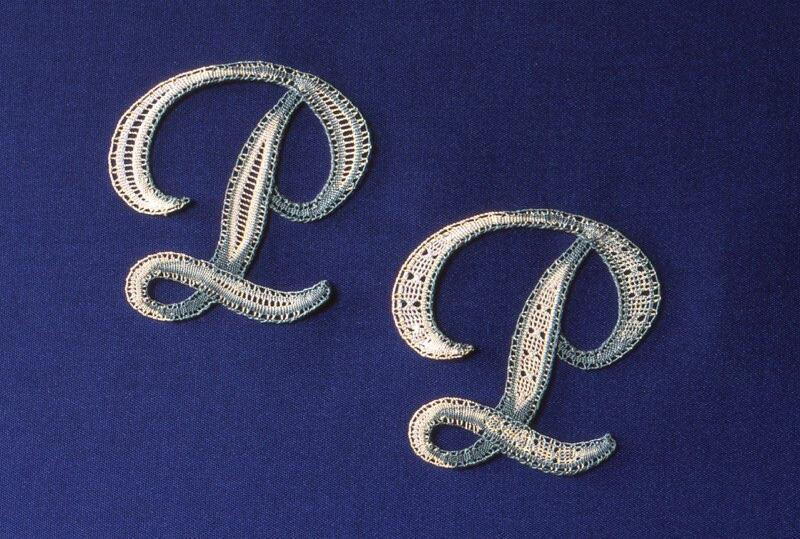 P is for Primula from Alphabet Inspirations by Sandi Woods
(or P is for Pipers!)The Milanese design by Sandi Woods shown below, was worked in Pipers 80/3 Spun Silk and Pipers 90/3 Twisted Gloss Silk. These silks are a favourite of Sandi Woods who has used them extensively throughout her designs.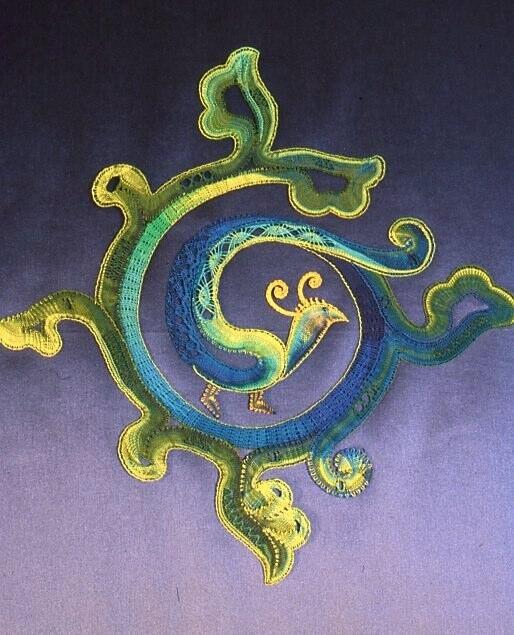 Silk Packs are available for the designs in many of Sandi's books.
Contact us with the relevant design information and we will make you up a pack of silks to work your chosen design.
Sandi has produced a stunning collection of small books which contain original lace designs and patterns with full working instructions plus additional information. 'The Silk Root' booklet from Occasional Oddities is shown below. Sandi has used PIPERS FLOSS SILK in many of these beautiful, artistic designs.
All Sandi Woods' publications are available on her website www.sandiwoods.com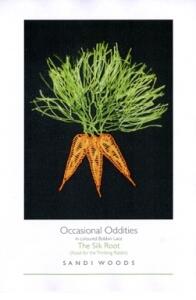 A popular choice for Torchon wedding garters is the 90/3 Twisted Gloss Silk, 80/3 Twisted Gloss Silk or 80/3 Spun Silk with matching gimps, usually 40/3 or 30/3 Thick Gimp.
Another wedding or christening keepsake are handkerchiefs edged in Torchon lace. These beautiful silks help create heirlooms to mark such important family occasions.
The ring pillow in the picture below, a wonderful keepsake to hand down to future generations, was beautifully worked in 90/3 TWISTED GLOSS SILK by Kim Mudge.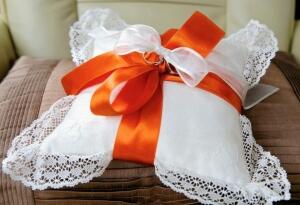 Twisted silks, either spun or gloss, ranging from around 270 denier Pipers 100/3 SPUN SILK to the MEDIUM/THICK GIMPS are suitable for Needle Lace.
The 80/3 Spun Silk has an excellent colour range if you wish to add colour to your work and is a popular choice for this type of lace.
Spun Silks* do not have the lustre of the Floss and Gloss Silks. However they take their place in the range of lacemaking silks when a matt sheen is required as they can create a softer look to coloured pieces of lace worked mainly in the Floss and Gloss Silks.
*Spun silks are made from pieces of cocoons that have been shed during the preparation of the original continuous filament yarns. The small pieces of fibre are brushed and twisted together to form a thread as in cotton spinning. However, it still has a smooth silky texture and a matt sheen.
Spun Silks can also be used to make a gimp thread by winding the required number of strands on your bobbins. This is especially useful if your favourite shade in not available in one of the ready made gimp silks.
Pipers SILK GIMPS range from fine 300 denier to thick 1,200 denier in size.
To find which size you require for your project, open the Thread Comparison Chart, simply look down the 'Approximate Yarn Comparison' column to find the thread suggested in your pattern to then identify the gimp size in our silk range.
All lacemaking silks can be ordered online directly from our online shop.